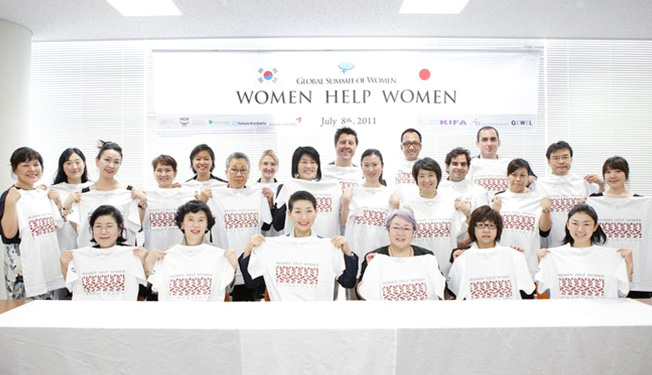 We provide the education and business information necessary for women to gain independence

We support the creation of an environment in which women can work in a way that fits their lifestyle

We assist introduction to the world market, of what women want to create

President
Haruko Nishida
After graduating from Tokyo University, Haruko Nishida worked as a researcher at a think tank, engaging in macro-industry analysis and social research in the fields of telecommunications, education and regional development She studied abroad at Harvard University's John F. Kennedy School of Government, and then began working at McKinsey in 1992. Beginning as a consultant, she became Research Manager for the North Asia Region, while at the same time writing and lecturing externally regarding "knowledge creation and open innovation," the topics, which she has extensively researched with academic people, such as Ikujiro Nonaka for over 10 years.
As a representative of Office Phronesis since 2011, she has dealt with research and consulting services, while also contributing to the establishment of IMPACT Foundation Japan, a not for profit organization, which works alongside entrepreneurs and innovators from around the world to promote startups and social innovation. In 2015, Haruko Nishida spun off a program which IMPACT Foundation Japan had run, offering career support for women from areas affected by disaster, and became the President of Women Help Women. She is engaged in promoting woman-led startups and social enterprises.
Founding Director
Ann Sado
Ann Sado is a 3rd-generation Japanese-American U.S. citizen, born in Tokyo, with permanent residence in Japan. After graduating from Occidental College in the United States, she earned her master's degree at Waseda University. She served as Marketing Manager for Estée Lauder Japan's Aramis Division, as well as Group Product Manager for Product and Brand Development Divisions and Marketing Manager for L'Oréal Japan's Lancome, Helena Rubinstein, and Institut de Beaute. She also served as Vice President of the Apparel Division for Reebok Japan.
In 1995, she established A TO Z Sado Enterprises Ltd., social enterprise where she plays many roles: Marketing, PR/communications, Executive Coaching, and Diversity & Inclusion management consulting, as well as keynote speaker/lecturer for NPO businesses and universities.
From 2004-2011, as Vice President for the Board of Directors of NPO GEWEL, she contributed to raising awareness of executive leadership, diversity and inclusion in corporations promoting women and female entrepreneurs.
Auditor
Narikou Kaneshiro / Sung H. Kim
A Permanent Resident of Korean lineage in Japan, she graduated from Wako University's Faculty of Economics before studying at FDU in the United States.
She served as Director of Food Industry Management Planning at Kincoh Co., Ltd., as well as Sports Instructor at physicalfitnessLabella. After moving to the United States, she established an advertising agency which published a magazine focused on connecting with the Korean and Japanese communities in the United States. At that company, she engaged in advertising, marketing, international event planning and educational development planning, and the introduction of companies to foreign markets.
She established IHIA KK, which specializes in support consulting for international relocation, international education development planning, and international HR planning.
She is the founder of NPO KIFA, and serves as its representative.She is currently engaged in developing international children's educational programming, as well as production for fashion and design events.
Director
Michiko Sugita
Michiko Sugita is a graduate of the Waseda University School of Commerce. She spent her elementary school years in New York in the United States, and relocated to Beijing, China after graduation from university. She worked in in-house English/Chinese interpretation and international project development for fields as diverse as sports entertainment, real estate, and academia, before founding a company to provide multilingual business support services to Japanese businesses breaking into foreign markets.
She is currently the President of La Cle Global Services K.K., as well as an Executive Board Member of India Center.
Director
Sachiko Fujii
Sachiko Fujii is a graduate of the Tokyo University of Science Faculty of Pharmaceutical Sciences. She has worked at research facilities for Japanese detergent manufacturers. After gaining experience in positions such as information service at a Swiss pharmaceutical company, she took charge of new products in 1988 as the first female Product Manager in the industry. She was responsible for product marketing for 20 years, during which she successfully launched two new products.
In 2006, she established the Diversity Office at that company, and introduced diversity as a corporate strategy. Since retiring in 2008, she has participated in the initiatives of NPO GEWEL as a Member of the Board of Directors and as Representative Director (2011-2014).
Her fields of interest include implementation of practical diversity and inclusion, the state of leadership, creating an environment of happiness and health, and general marketing. She strives to "pay it forward" to the next generation.
Director
Sayaka Watanabe
Sayaka Watanabe majored in Asian Studies at International Christian University. She completed the Tokyo University Graduate Program on Human Security. Seeking to develop a way to solve social problems through business, she joined IBM right after graduation.
While contributing to new enterprise formulation, business improvement, and CO2 reduction projects, she also took part in planning the startup of community leading and pro bono work focused on the company environment and society. She left IBM in June of 2011. Since her time at IBM, she has assisted in planning the establishment of both the Japan branch of the American NPO Kopernik, and the NPO Soket. In November of 2011, she established the private company re:terra, and served as its Representative Director. In May of 2013, she established re:terra, and serves as its Representative Director.
She is a 2013 and 2014 finalist for the Nikkei Social Initiative Award.
Director
Yasko Nagahama
Yasko Nagahama majored in Psychology at Gakushuin University.She completed a master's degree in education at the University of Louisville in the USA.
She joined Kentucky University's Japan project inviting Japanese corporations to invest in the State of Kentucky. After returning to Japan, she joined BP Japan KK, as a business analyst. Following participation in the lubricants business development in Japan, she relocated to Singapore to help start-up the Asia technology center for 3 years. She then returned to Japan to lead the integration project between Castrol and BP. Once the corporate integration was completed, she was asked to lead the organization development and diversity agenda in the newly established company, BP Castrol KK. She was the director in charge of HR and General Affairs of the company until March, 2021.
Yasko is a CRR Global certified system coach (ORSCC).